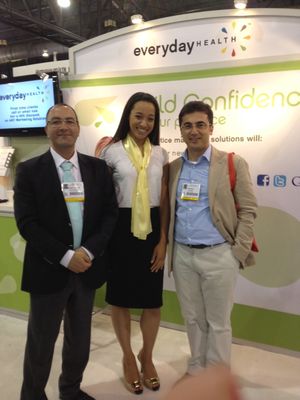 Updates:
-School is out
-Not taking summer classes
-Made list of new goals
-New 6 week Samsung program
Since getting back from NYC I took 2 weeks off to finish school for the semester. This second Monday in May marked my 3rd week back to work. The transition has been hard! Room needs to be cleaned, mounds of clean laundry need to be folded, invoices and contracts need to be sent to clients and agencies, need to follow up with some business contacts, and need to pack for NYC this weekend. Some of those are good problems :)
A couple weeks ago I went back to NYC for an audition for an auto maker. I found out today that I did not get the job. That's the way this business works; other opportunities will come. For the next 4 weeks I will be working on a marketing program for Samsung. This weekend I get to take a break from that to attend the The Makeup Show NYC 2012 on behalf of the Cosmetology Network. The chance to do something new is exciting, and it is always great to have an excuse to go back to NYC. Stay tuned for pictures and maybe a little video or two.
After school ended I had all this free time and no idea what to do with it. That lead to making a new list of goals. I won't share all my secrets but a few of the items from the list are:
-continuing to learn Spanish
-read 1 book every week this summer
-exercise for 1 hour every day
-contact or visit one friend or family member every day to say 'hi'
Pandora and Spotify are helping me with the Spanish. Friends and family are happy to hear from me. My first book to read is Change Your Brain Change Your Life by Dr Daniel Amen. Reading it has already carried into week 2 and exercising is a real struggle but this is going to be a productive summer! I have PLANS and STRATEGIES!