This weekend was a whirlwind! I had the pleasure of representing KIA as part of NBA Nation at the Taste of Philadelphia. In addition to Lou Williams and Evan Turner visiting the KIA display to sign autographs and pose for pictures, Darryl Dawkins made appearances.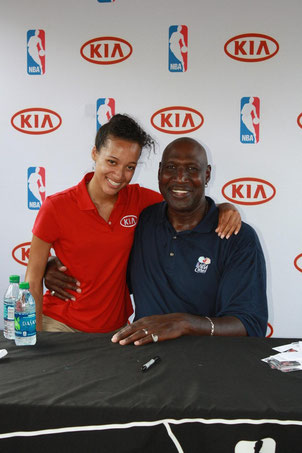 When I was first introduced to Mr. Dawkins this weekend he said to call him "Chocolate" because all his friends do. Not knowing who he was at the time it seemed silly to call a grown man such a name. He started calling me 'slim' but then settled on 'juicy fruit'. Just thinking about it makes me laugh.
He are some of the facts I learned about Darryl Dawkins:
His mother taught him to play basketball
He went to the NBA as the number 5 draft pick straight out of high school.
He is the reason shatter-proof backboards were introduced. He kept breaking the backboards, they would have to be replaced in the middle of games and it took too long.
The nick name Chocolate Thunder was given by none orther than Stevie Wonder. (That is my favorite fact!)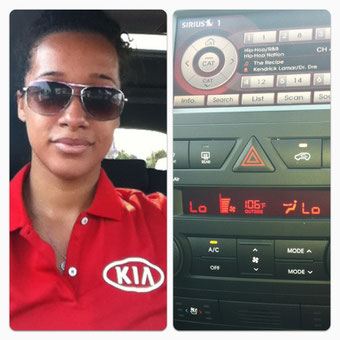 Not knowing about his legacy before the weekend ended I knew a lot more about 'Chocolate Thunder' by the last day of the event. I have no interest in sports and celebrity does not impress me but I was astounded by Darryl Dawkins as a man. He has many fans in Philadelphia from his legacy with the 76ers. He is immensely grateful to his fans and he shows special attention to children. Through all 3 days of the 100 degree temperatures he graciously interacted with fans, never denying an autograph or photo.
Someday I hope to be as gracious and appreciative of my situation. Although I love people they often annoy me by not being grateful or by complaining, often when I am trying to serve them. Extreme temperatures only exacerbate any situation. Mr. Dawkins only allowed the heat and fan complaints to show his good character further. Mr. Dawkins you are a Prince among men and a true inspiration in graciousness and gratitude. It was an honor to be in your presence.
Friday night we suffered terrible storms. I woke for work early Saturday to find down tree limbs everywhere. Unfortunately many in southern New Jersey are still without power and will be until the end of the week. A friend even told me that she knows of a family who lost their home because a tree fell on their house then flooded as the rain fell. By the grace of God my home never lost power and suffered no structural damage.
This week I would like to leave you with 2 thoughts:
1. Who do you most admire? Do you have traits that someone could admire?
2. As bad as you feel about your situation there is always someone who is worse off so be grateful for what you DO have.