It's been a while since I posted an update. My schedule has become a little hectic...which is a GREAT thing!
In the last two and a half weeks I have been to Baltimore twice, for tradeshows. For the first show I actually had to commute to Baltimore from my home in NJ. A prior commitment at home meant I had to return each night. After making that drive for 3 days I needed a few days to recuperate! Fortunately my schedule allowed for it.
Then last week I worked another show in Baltimore. The client treated us very well. They were definitely the coolest bosses ever. They gave me an equally cool partner in crime, Meghan. She was the best! One thing the client did that I really appreciated was letting us use the gym in their hotel. The gym was set up in a corner of the hotel with windowed walls that gave a great view of the Orioles Stadium and a really cool balcony.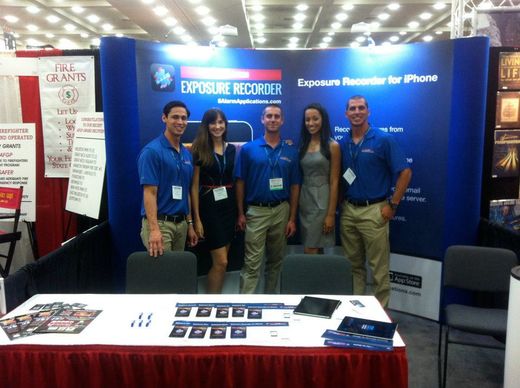 Getting those workouts in the gym really jump started my workout routine. Since then I have been doing 50 minutes of more of Pilates or cardio almost everyday. Combining that with the changes to my diet, I have noticed a significant change in my body. I feel and look great!
After getting back from Baltimore the second time I did a one day event in my home state of New Jersey. You know how rare it is for me to work close it home. There I met a great new work friend and somehow received a mysterious stamp on my ankle. Everyone said they did not stamp the star on my ankle but I did not put it there either. It was strange, haha.
Now I am in NYC for a few days. Lenore and I have teamed up, once again. When this trip is over I will share the exciting happenings. Speaking of which, Lenore and finally decided to officially take our act on the road. We have started a joint venture: Tradeshowtwins.com
We are so excited about it! While in Atlanta next month we will try to do a photoshoot together to get the marketing started.
That was a great lead in to the next big thing going on. Lenore and I will both be traveling to Atlanta next month. I will be there most of the month working and visiting friends and family. There are some really cool projects I am negotiating. One was finalized yesterday and there are a few others in limbo.
Stay tuned to hear about all the trouble I get into in NYC :)