After an early appointment on Friday I spent the morning exploring Philadelphia. Then a client unexpectedly called and asked me to take care of something for an event in Philly! Remember that I live in Baltimore now, which made the phone call so ironic. I spent the entire afternoon taking care of business for the client.
This week I had one week of summer break from school! For the weekend I invited myself to join some of my crazy-cool friends in Scranton, PA. They were going for The Office Wrap Party. I just wanted to get away! While they were attending events I caught up on some work and did some shopping.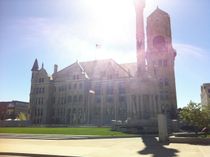 Here is my dish on Scranton: It is a slice of AmericaI It is full of history and rich architecture. The Electric City is clean too! It is obvious that there was a strong industrial presence at one time. There are many old factory buildings and the Radisson Hotel is in a former train station. Unfortunately I did not get a chance to go inside.
This week I begin taking 1 summer class. Also in addition to the long term promotion that ends in December, I picked up another that will start this week and end at the end of June. Sound like fun? That's because it will be!
...even if I have to talk myself into it, it is going to be fun!
During this week of break I planned to redo this website. So far the background has been changed and a Resume page has been added! Special thanks to Anne for editing and formatting revisions! 
Have you ever gotten a glimpse of someone that you thought looked like you? That happened to me this recently! I got an email from Phillips and after scanning it I saw a flash of someone who looked just like me! It was not me this time but it was funny. See for yourself and let me know what you think!
Tomorrow is the Makeup Show! I am most excited to see London Brush Company and Blinc. Coerlessly will be at the show with me too.